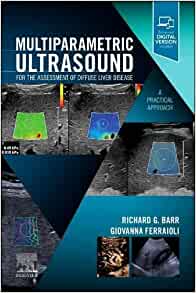 Richard G. Barr MD PhD FACR FAIUM FSRU
For those who treat and diagnose liver disease, whether radiologists, emergency medical physicians, hepatologists, or sonographers, a clear understanding of the strict protocol needed to obtain accurate measurements is essential. Multiparametric Ultrasound for the Assessment of Diffuse Liver Disease offers a practical approach to liver shear wave elastography acquisition from globally recognized leaders in the field. It answers critical questions such as how to use each of the current techniques to best characterize your patients' liver disease, how to deal with the limitations of each of these techniques, and what to ask―and not to ask―of your devices and software.
Presents an overview of conventional ultrasound findings in chronic liver disease and portal hypertension, and presents the basic concepts and protocols needed to measure liver stiffness and interpret liver stiffness values. 

Details clinical applications, artifacts, and guidelines of liver ultrasound elastography, including tips and tricks. 

Reviews the latest ultrasound techniques to assess liver steatosis and focal liver lesions, as well as the uses of new technologies of fat quantification and dispersion. 

An eBook version is included with purchase. The eBook allows you to access all of the text, figures and references, with the ability to search, customize your content, make notes and highlights, and have content read aloud. 
Download