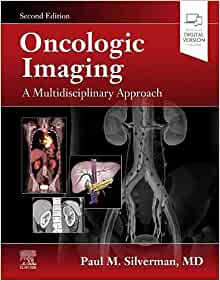 Paul M. Silverman MD
Comprehensive, authoritative, and up to date, Oncologic Imaging: A Multidisciplinary Approach, 2nd Edition, covers every aspect of radiographic imaging for the diagnosis, treatment, and management of the cancer patient. Dr. Paul M. Silverman and an expert author team from MD Anderson Cancer Center provide all the current, practical information available, while incorporating their unique experience based upon extensive, daily clinical care of patients with cancer. In one convenient volume, this definitive, one-of-a-kind text discusses new diagnostic imaging and surgical approaches as well as therapeutic cutting-edge treatments from radiation and medical oncology, focusing on best practices and the newest standards for personalized medicine.
Brings together a unique multidisciplinary team of authors including clinical radiologists, medical oncologists, radiation oncologists, and surgical oncologists who reflect team-based practice. 

Features an all-new chapter on head and neck imaging, authored by world experts in this complex area. 

Contains extensive updates throughout, including transformational state-of-the-art imaging modalities such as PET/CT, and the full range of traditional modalities, including multidetector CT (MDCT), ultrasound, and MR in conjunction with the latest advances in genetics, molecular oncology, and targeted therapies. 

Distills practical, up-to-date information into a concise and consistent format with key point summaries, algorithms, clear drawings, and full-color staging diagrams. 

Includes emerging options for care based on practice recommendations and evidence in the literature. 

Provides updated tumor staging information based on the AJCC Classification of Malignant Tumors, 8th edition. 

Highlights the text with 1,000 high-quality radiographic images: CT, MR, hybrid imaging (PET/CT, PET/MR), mammography, and ultrasound, as well as clear line anatomic drawings, graphs, and algorithms. 

Enhanced eBook version included with purchase. Your enhanced eBook allows you to access all of the text, figures, and references from the book on a variety of devices. 
Download