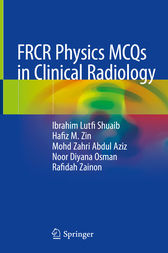 Rafidah Zainon
This book offers a collection of specimen multiple choice questions (MCQs) for the first FRCR examination in clinical radiology that is for the physics module. It includes questions arranged in nine sets of 40 MCQs following the examination format. Additionally, chapters cover explanation to some of the answers for better understanding of the topics. The book covers updated syllabus of Royal College of Radiology (RCR), UK on scientific basis of medical imaging, including topics in molecular imaging.
Each chapter with a practice set comprises of questions arranged in the order of the syllabus of the examination, starting from the basis of medical imaging and radiation physics to the principles of specific modalities and safety issues.
This book offers assistance to candidates preparing for the first FRCR examination, clinical radiology trainees, and radiology and nuclear medicine postgraduate students.
Download