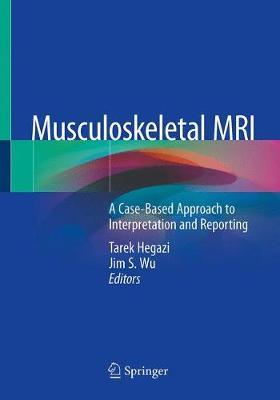 Tarek M. Hegazi, Jim S. Wu
This book teaches readers how to interpret, read, and dictate musculoskeletal (MSK) MRI studies through a series of very high yield MSK MRI cases. The amount of knowledge needed to practice radiology can be daunting. This is especially true when the radiologist has to read studies in a subspecialty outside their expertise such as MSK MRI where there are numerous disease entities and complex imaging findings to navigate. Learning how to read MSK MRI studies is often taught during a lengthy fellowship; however, many radiologists do not have this additional training but must read MSK studies during their routine clinical practice. This book fills that educational gap for practicing radiologists faced with musculoskeletal MRIs.
The cases in the book focus on the conditions that radiologists encounter most frequently in their daily clinical work, making it very high yield for the amount of time needed to read it. Written by experts from Harvard Medical School, the cases are organized by joints (shoulder, elbow, wrist/hand, pelvis/hip, knee, foot/ankle). Four additional chapters discussing arthritis, infection, bone marrow and tumors are also included. Each case begins with carefully selected high quality MRI images accompanied by a brief clinical vignette. Next, a concise report (as if one is dictating an official report) describing the imaging findings, diagnosis, and recommendations for management are provided. This sample dictation offers readers direct examples of how to report their own cases. Lastly, at the end of each case, there is a brief discussion section which mimics teaching sessions that would occur between specialist trainees and faculty members at the workstation so as to enable the readers to think like a bone radiologist.
This book is an ideal guide for anyone who deals with MSK MRI on a regular basis, including general radiologists who have not completed a dedicated musculoskeletal radiology fellowship, radiologists who would want to brush up on their MSK MRI reading and reporting skills, and MSK radiology fellows and residents.

Download