Poretti, Andrea, Huisman, Thierry A.G.M. (Eds.)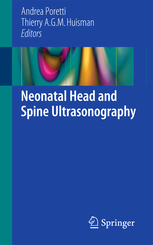 This book discusses the key features of normal, age-dependent neonatal head ultrasonography as well as the findings of the most common neonatal neurological disorders as visualized by this modality. Neonatal head ultrasound is an important diagnostic tool in the initial evaluation of intracranial abnormalities in newborns. Head ultrasound is a safe  and cost-efficient tool for detecting brain abnormalities in preterm and term neonates, monitoring the progression of brain lesions, and describing the maturation of the developing neonatal brain.  To facilitate its use at the bedside, the book is organized by clinical findings and their differential diagnoses.  For each disorder, a clinical vignette describing the clinical presentation of the newborn  is accompanied by high-quality ultrasound images that depict the abnormal findings and detailed explanations of these findings. This book is a succinct guide to neonatal head ultrasonography for neuroradiologists, neonatologists, and pediatricians.
Download
[protect points="1″]
[/protect]
Note: Only Radiology member can download this ebook. Learn more here!