by Stanley H. Benedict (Editor), David J. Schlesinger (Editor), Steven J. Goetsch (Editor), Brian D. Kavanagh (Editor)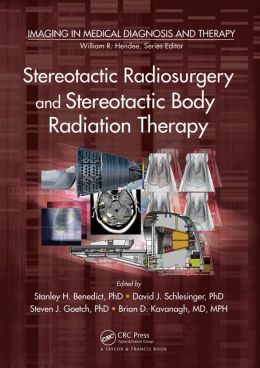 Written by internationally known experts in the field, Stereotactic Radiosurgery and Stereotactic Body Radiation Therapy examines one of the fastest-developing subspecialties within radiation oncology. Unlike traditional techniques that deliver many small doses of radiation over days or weeks, stereotactic radiosurgery (SRS) and stereotactic body radiation therapy (SBRT) delivers large doses of radiation in one to five sessions to a precisely determined target. Often these techniques have proven to be as or more effective than traditional radiation therapy techniques, while at the same time creating efficiencies in cost and patient inconvenience.
These techniques, however, require careful planning, specialized equipment, and well-trained staff. This volume provides a cutting-edge look at the biological and technical underpinnings of SRS and SBRT techniques. It includes a history of the development of SRS and SBR; clinical applications of the techniques; dedicated devices for delivering precisely shaped, high doses of radiation; use of in-room imaging for treatment planning and treatment guidance; immobilization techniques for accurate targeting; and future developments that will continue to evolve and refine existing techniques. A valuable introduction to those just learning about these specialized techniques, and a fantastic reference for those who are already implementing them, this book covers a wide variety of SRT-related topics, with clear discussions of each aspect of the technology employed.
Download